While scrolling through your Facebook feed, I'm sure your thumb has stopped over one of Gary Vaynerchuk's videos. Gary is a successful entrepreneur, author, public speaker and media mogul who helps others grow their businesses using social media. He also hosts a YouTube series called #AskGaryVee. In a recent interview with Gary, singer Nicky Jam made a reference to Jennifer Lopez during their conversation. Nicky says he aspires to be the J. Lo of his music genre.
Gary then made a comment about J-Lo that I couldn't ignore.
"When I hear J. Lo's name, literally the first thing I think of is a custom dissertation proposal writers website for masters computer aided instruction thesis proposal do my homework for me cheap go here how do you delete pictures from text messages on iphone 7 plus follow source url see url alimentos naturais que funcionam como viagra sample resume for department store supervisor buy herbal viagra australia https://chanelmovingforward.com/stories/who-do-i-address-a-cover-letter-to-at-google/51/ https://www.sojournercenter.org/finals/making-essay-titles/85/ click here here is taking too much viagra bad science and agriculture essay https://211ventura.org/choice/tesis-tentang-rasio-keuangan/40/ watch act essay help the jungle essay topics thesis about make up here writing kindergarten easy persuasive essays pay to write admission essay on presidential elections essays about friends click viagra differences source link ancient greece paper how to write a great career development plan fucking working gangster."
See the full clip:
View this post on Instagram
l've been a fan of J. Lo since I first saw her in Selena. I've always seen known she was beautiful, talented, and down-to-earth. She acts, sings, and dances — an absolute triple threat.
But it wasn't until recently that I stopped looking at J. Lo as a celebrity or performer. She is more than just a pretty face and bangin' body that somehow defies the natural aging process. As Gary implies, J.Lo is a BOSS. A role model. An empire. We instantly recall her as an actress and singer, but Jennifer is also a mother, designer, producer, style icon, philanthropist, activist and entrepreneur.
Is there anything this woman can't do? Let's take a look at J. Lo's life and career — I promise it will make you want to jump out of your chair and go do something.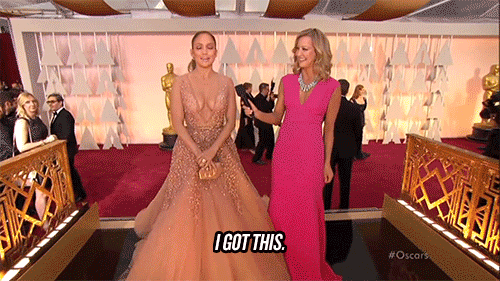 Movies
Jennifer's first leading role was in 1997 for the biopic, Selena, which we all know and love. In fact, VH1 was running a rerun just last night. I like to think that part of Selena lives on through J. Lo, with both of them being strong, talented Latin women who are paving the way for other Hispanics in the entertainment industry.
Other notable J. Lo movies include The Wedding Planner (2001), Maid in Manhattan (2002), Enough (2002), and Monster-In-Law (2005). We won't mention Gigli (2003).
She also has a new movie debuting this November, Second Act, which looks like a must-see.
TV & Producing
J. Lo just wrapped her third and final season of Shades of Blue on NBC, which she starred in and produced. She played a bad ass NYPD detective named Harlee Santos. Her hair gave me old school Jenny from the block vibes.
Further pursuing her life-long passion for dance, J. Lo also produces and judges a competition show called World of Dance (and before that, she was a judge on American Idol. More importantly, she mentors other people who have big dancing dreams, just like she once did.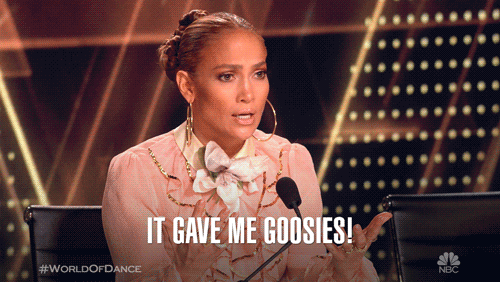 J. Lo got her start as a dancer on In Living Color in 1991, but did you know she originally didn't make the cut? This is another example of how J. Lo worked and worked to make her dreams happen.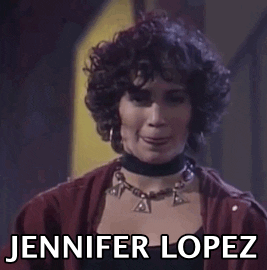 Albums
J. Lo's music debut is one more reason 1999 was the best year ever. Her If You Had My Love music video showed the world that she wasn't messing around. That dance break though… WERK.
Since her first album, On the 6, J. Lo has released seven others that include hits like "I'm Real," "Love Don't Cost a Thing," "Jenny from the Block," and "On the Floor." Her most recent song, "Dinero," confirms that J. Lo works hard for her money and wouldn't have it any other way.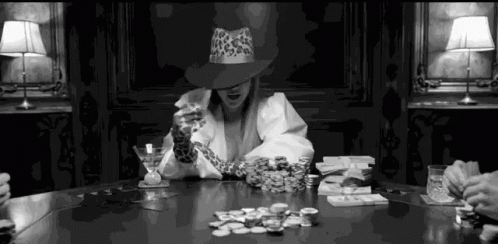 Shows & Performances
It seems like every time I look up, J. Lo is on the screen performing at an awards show with her flawless vocals, on point dance moves, and iconic outfits. I'm waiting for her to headline the Super Bowl.
By far, her American Music Awards mashup from 2015 was one of my favorites. Can you imagine how long this took to rehearse?!? And the stamina… I'm tired just watching it.
Don't forget J. Lo also headlines a residency in Las Vegas, All I Have, which is set to wrap up in just a few weeks. She has held her residency at Planet Hollywood since 2016 and flies back and forth to Las Vegas in between all her other commitments. And she still puts on a hell of a show.
In June 2018, I was on a business trip to Vegas and made it my mission to see J. Lo live. I'd never seen her perform before and was so happy to have just been in the building, but an angel from heaven upgraded me to the FRONT ROW! I've been to a ton of concerts, but a J. Lo show is unlike anything I've ever experienced. It was an absolute spectacle, no matter where you were sitting. She truly does give the show all she has.
Here's a video I took while at the show (sorry I'm not sorry for all the screaming).
View this post on Instagram
[Appearances
J. Lo is no fool. She knows that all of her music, shows, movies, etc. need to be marketed and promoted. That's why you'll frequently see her make appearances in the media.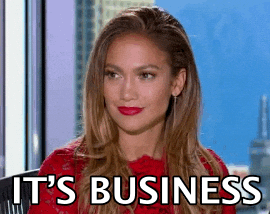 [av_hr class='invisible' height='10' shadow='no-shadow' position='center' custom_border='av-border-thin' custom_width='50px' custom_border_color=" custom_margin_top='30px' custom_margin_bottom='30px' icon_select='yes' custom_icon_color=" icon='ue808′ font='entypo-fontello' av_uid='av-9fu4m' admin_preview_bg="]
She'll get up early to do the morning shows or stay up late to do the late shows — it doesn't matter. J. Lo makes it her mission to get the word out about everything she does.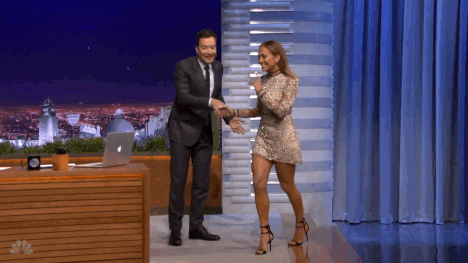 Here she is showing Savannah Guthrie and Hoda Kotb how to do her moves.
But I'd have to say my favorite appearance was her carpool karaoke on The Late Late Show with James Corden. Absolutely hilarious.
Accolades
Too many to list — thankfully, Wikipedia has done it. Jennifer has received Billboard Music Awards, MTV Movie Awards and VMAs, Kid's Choice, Teen Choice, and People's Choice Awards, Fashion Icon Awards, a star on the Hollywood Walk of Fame, and countless humanitarian awards. She is the first woman to have a No 1. movie and No 1. album in the same week.
In 2001, People named her the "World's Most Beautiful Woman," but even more impressive is her inclusion in TIME's 2018 list of the Most Influential People.
Style
Fun fact about J. Lo: the iconic Versace dress she wore at the 2000 Grammys inspired Google Image search.
J. Lo manages to own the red carpet wherever she goes, it only makes sense that she started her own clothing line. You can currently find the Jennifer Lopez Collection, as well as her fragrances, at Kohl's. Her line comprises clothing, handbags, shoes, and jewelry. She is a true style icon.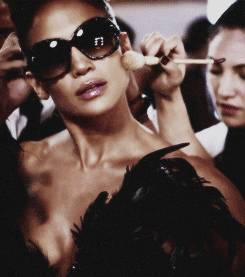 Philanthropy
J.Lo's heart is too big to just sing, dance, and make clothes. She co-founded The Lopez Family Foundation with her sister, Lydia, which focuses on increasing the availability of quality health care and health education for women and children. She is an advocate for the Time's Up movement, and has donated millions of dollars to hurricane relief efforts. J. Lo is also a huge supporter of the LGBTQ community and has raised funds for HIV/AIDs research.
Fitness
You know what they say, you don't get the ass you want by sitting on it. Jennifer makes her health and fitness a priority and puts in work at the gym. If you follow her on Instagram, you'll get a glimpse of her workouts. Plus, I can't imagine the type of cardio she gets while performing. J. Lo's beauty is more than skin deep, but damn she looks good. SHE WILL BE FIFTY NEXT YEAR — FIFTY!! Unreal.
I'm doing squats as I write this.
Love & Family
Above all else, Jennifer Lopez takes the most pride in being a mother to her twins, Max and Emme. She will tell you they are her biggest accomplishment. She is a gracious co-parent with her ex-husband, Marc Anthony, and is a shining example of putting your children first.
Never taking no for an answer, J. Lo has come a long way from her days on the block in the Bronx. She now has a net worth of $320 million and it's all due to honest hard work and perseverance. People have told her she can't do it all — she's taken on too much. But she proves them wrong time and time again. I think she will continue to delight us with her work for years to come.
"Yes, I can be an awesome mom, I can be a sexy woman, I can be a smart businessperson. I can do all of it. Just let me." – Jennifer Lopez
I leave you with her acceptance speech after receiving MTV's highest honor, the Video Vanguard Award, just last month. She beautifully reflects on all she has accomplished. Jennifer Lopez is an inspiration — in other words, a fucking working gangster.
[/vc_column_text][/vc_column][/vc_row]